Nothing gives the staff at Women In Charge more pleasure than to hear about a successful outcome for our participants and would like to thank the women empowered enough to share their stories…
Abbi's Story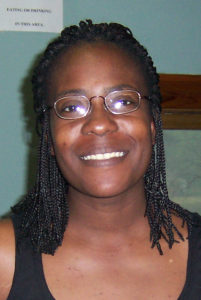 I'm 18 years old.  I live with my 1 year old daughter, and I work for Toys R Us.  I'm trying to save up for a car.
When I was 14 my dad sexually abused me.  I told my mom about it and she called the police.  The police locked him up.  He told his wife he didn't do it and no one believed me, he said he was sleepwalking. The state put me in Marygrove for 30 days, and then I was supposed to go back and live with my great grandma because my mother is not a fit parent.  She's young, and has 4 children.  My mom stays around the corner from me, she and I are like close friends.
When I was 16 my great grandma sent me back to my daddy's house, but he didn't send me to school and didn't buy me food. That is when I started acting out, staying out late, having sex with my boy friend. I would spend the night at his house and my dad didn't care. So my great grandma said I could go back to her house.
My great grandma was more strict and I could follow the rules.  She bought food, made sure I was in bed and gave me an allowance.  It was so much better.  I didn't come home to a dark house, my aunt, my grandma and my brother were there too.  I went to University City High School at that point.  My brother talked to his friends and everybody kept asking me what happened to me, I started getting into fights, my comfort zone ended up being with Bob, my daughter's daddy.  Then Bob's mom died and left him homeless.  My aunt didn't want him to stay with us, so I left.  My Grandma's ex-boyfriend has an apartment that he is renting to me.
It is hard to believe when you see my dad how he treats me and my brother. He is middle class, went to college, has a wife, kids and a nice house.  Once he met my stepmother, he only cared about her. She had money and a five bedroom house. I don't talk to my dad much.  My dad will call me, but when he is around his wife he will rush off the phone. It used to hurt my feelings, when I was younger. The day I took the GED test he texted me and wished me good luck.
Sometimes I begin to hurt when I remember how he hurt me.  Every time my daughter's father plays with her I get scared that he will do what my daddy did to me.  We've broken up because I don't trust him or anybody.  I'm questioning how he plays with her. I can't help it.  When anybody is playing with my daughter I always monitor it to protect her from those things.  At Marygrove we had group therapy.  I don't want people to feel sorry for me.
I heard about Women In Charge from my pediatrician on Olive who told me to go there and get my GED.  I started last year, and left when I didn't have a place to live.  I started again this August because I felt like I was at a better place in my life, and able to focus solely on my GED. When it comes to learning I do better in a small class, in a large class I get distracted.  When I start talking to the other women either Sue or Ann will tell me to finish what I'm working on and get me back on track.  They will tell the class to quiet down.
Everybody is comfortable around each other. Here the teachers can focus on each student, it encourages you to get up every morning and come back to school. I have changed because I know what I want to do, I see life from a different perspective.  I learned that nothing is going to come to you, you have to go get it. I used to look at myself as a person that can be stereotyped: single mom, no education, on welfare, and now I see myself as a person with goals and morals, a person that will be something in life.  I see that there are people who really do care, even if they don't know you and your situation.  Ann and Sue basically made me want my GED more.  Ann really pushed me, she is that friendly bully.  Lynn kept telling me I couldn't get a good job without a GED.  Sue is very laid back trying to help me with what I needed to do, she let me decide when I was ready to take the test.
I am fortunate not to have any learning disabilities.  My next step is to look in to colleges, and finding a major that would best fit me.  I would tell everyone to come to Women In Charge, they are loving and caring.
Abby passed the GED. She is currently employed, and still plans to attend college.
Cally's Story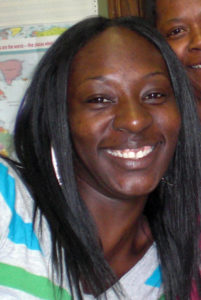 My life has been a shambles ever since 1985, the year that my dysfunctional sperm donor (father) took the life of my mother who is supposed to protect, guide and teach her child. He killed her in front of the fourth grade class she was teaching.  So, I was raised by strangers and by people who were only after the money. My mom's mother took us in first and got all the monthly Social Security money for the seven of us, but she wasn't very interested in taking care of us.   She put the babies, my brother and me, into foster care for seven years.
When I was 14 she sent me to live in Atlanta with another brother, I did not know him.  He beat me and I escaped with the help of a neighbor.  I hid my clothes in the bushes outside the apartment, and she picked me up in the morning and drove me to the bus station.
My bus ticket was in her name.  The authorities stopped the bus looking for me, but because I had changed my clothes, and my ticket was in the neighbor's name, they didn't find me. I went to live with my brothers. My St. Louis brothers were my support and very resourceful to me.
I have six children. My husband and I split up after I found out that he was using heroin, crack and alcohol. I heard that is why my dad stabbed my mom and was afraid the cycle would continue with me.
I used to take my kids to Crisis Nursery sometimes.  I told the counselor that I hadn't found the right GED program.  She gave me a list and Women In Charge was right at the top.
Now good things are happening to me. I have a neighbor I help out a lot, and sometimes send my son over to help with yard work. One Saturday my neighbor came over and said, "I want buy you a washer because you are an independent woman.  You don't see young women taking care of children like you do."  She took me to Overland Appliance and I thought that was really nice of her. I had needed a washer because I was putting 4 loads of dirty laundry into a double stroller and rolling it a half mile to the Laundromat every Sunday.
I had been sleeping on an air mattress for a year.  I told Vicki that I needed a bed.  So a friend of Women In Charge had a bed and she gave me the bed, sheets and covers.  That was so strange, the washer and the bed were not expected.
Finally I have found within myself what I didn't have; peace, understanding between my children and dealing with my own feelings. I see myself completing this program. It will make my mother smile from the clouds.
DeeDee's Story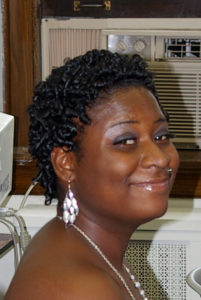 I came to Women In Charge by surprise.  I went to the Adult Education & Literacy office across the way and the lady in the office couldn't find my name, so she sent me over here to Women In Charge and said they could help me.  At first I wasn't going to go, I was walking to the parking lot and started to get into my car but then I felt the Lord tell me not to be stubborn, and I walked over to  Women In Charge.
A year ago I began to feel the need to get my GED.  I was under so much condemnation up to that point, my self-esteem was gone and I didn't think I deserved a good paying job.  I also felt invisible; it seemed that other people who had finished school, like my relatives, were better than me.  My grandma said, "Quitters never win, winners never quit."  She flat out told me "You're a quitter. I'm the one that has high hopes for you!
I was in private school up to the 7th grade; I was with mostly white kids. I was an only child.  My mom had depression issues, she kept the house dark and she was emotionally distant. My mom would have fits of anger, so I learned to be seen and not heard.  Things at home were so quiet.  She would lock herself in the room and come out angry.  Growing up, I was scared of my mom. I thought my dad was a jerk, I couldn't understand why he was there for his other kids but he didn't care anything about me.
I remember going to a friend's house and the whole house was peaceful, very loving.  It felt free.  My friend's mom was treating me like a daughter, and I came to a point where it was too much for me,  I was too full or worries and fears.  I couldn't let the peace in, let go of the darkness and embrace the light.  I left and never went back.
When I was in 7th grade I went to Brittany Woods, and with all the fighting and different kids, my grades dropped.  The whole time I was in school I felt stupid because I learned differently, my mind works different than the way the teacher teaches it.  I will look at the problem and get the answer in my own way.  I literally played stupid so I wouldn't get into trouble.  I decided to be home schooled to get away from the fighting and the inability of the teachers to understand my way of learning.  But my mom didn't carry through with the home schooling, so I sat at home all day for a couple of years.  I love to write, so in 2006, I attended a writing course at the Institute of Children's Literature. In 2008, I self-published a book, Body Image, that was about women and self-esteem.
When I got to Women In Charge, no one criticized me for moving so quickly and learning my own way, so I came out of my shell.  It was shocking coming to Women In Charge because everyone was so sweet, and I am not used to sweet.  The niceness kind of made me uncomfortable.  Everyone cared, and it wasn't a front.  I was used to taking tests and always failing, so when I did well on the tests, I was in disbelief.  Ann was very happy I did well, that was like a little crack of light in the wall of darkness.  I thought, "This might not be so bad." Then I went into Sue's math class. When I saw the class I thought "Great, another room full of women."  I thought "drama". I got scared and intimidated and that crack of light started to close up.  I sat down with Mary and she didn't get upset when I did problems my own way, so then my nerves calmed and I thought this might not be so bad after all!  I never had that one on one time with a teacher before and Sue is a very peaceful lady.
It's like being underwater and being released and taking a big breath and growing. I was hungry for knowledge, and it was an open buffet; I could get all I wanted.  I told Ann and Sue to pile on the work; the famine of knowledge was over!  I feel limitless now.  I can read all day.  I read two books a week.  Being here I realize I can be myself, the real me, it is okay.
Since I passed the GED, I can see how far I have come.  I am not invisible, I have an accomplishment.  I didn't believe I was intelligent.  Anything positive people said, even when I published the book, I didn't believe about myself.  I am struggling with walking into a new season:  the college season.
The big thing is making sure I have enough financial aid.  I have settled on Columbia College in St. Louis.  Since being there, I have realized that when you go for your dreams, nothing can defeat you.  Even though I was delayed for a while, I am now living my dreams.  It is still a bit surreal to look back on a year ago and actually see how far I've come.  And just to think, it all started with one lady not finding my name.
If I could leave some words of inspiration, I would say, "Failure isn't failure if you refuse to quit.  As long as you continue to press your way forward, the only thing available for you to do is succeed."